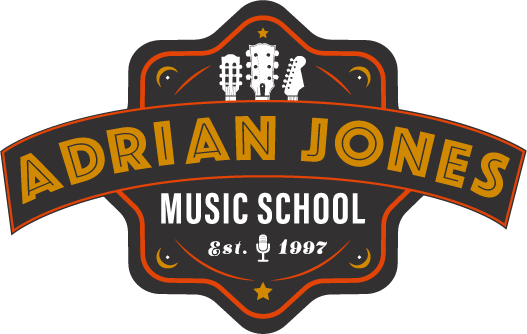 Enrollment at AJMS implies that you have read and agree to the following policies:
All communication is done through email and the student portal- please ensure that admin@adrianjones.org is added to your contact list so that you receive all communication from us!
The Online Portal
All new students will receive an email from mymusicstaff.com with a login for the student portal (returning students should already have one- please let us know if you need the information resent). Please login to check it out. From there, you can pay for lessons online with Visa or Paypal, check your lesson times, check your past attendance, book your makeup lessons, print receipts etc. We will be using this portal for making announcements regarding recitals, inclement weather and other important events, so please take the time to check it out.
Payment Policy:
Lessons are paid for in advance on the first of each month for the upcoming month's lessons. A late payment fee will be applied to overdue accounts.
There are 4 payment options for lessons
Visa or Mastercard automatic monthly billing. Log into the AJMS portal to set up. http://login.mymusicstaff.com Login to your account, go to Settings- My Preferences Scroll down to Saved Payment Options- Add Card. After filling in your information, please click the keep this credit card on file button. All new students will have this information added to their account upon registration. Unless you make other arrangements with us (ei- let us know you will be bringing in post-dated cheques), your credit card will be automatically billed on the first of each month. An invoice will be issued whenever any charge is made.
Post-dated cheques in advance for the term (must be dated for the 1st of each month). Amounts for each month can be found on the Term Breakdown. Please make cheques payable to "Adrian Jones".
**There will be a $30 charge for all NSF cheques.**
Please write the student's First and Last name in the memo area of the cheques
Cash, EMT or Cheque for the term in advance (see term breakdown).
Paypal for the term in advance. This can also be done through the student portal.
We can no longer accept weekly or monthly cash payments or extend credit. All lessons must be paid in advance.
If you decide to stop lessons at some point during the term, your unused prepayment will be returned, but one month's notice is required in order to fill your spot.
Attendance Policy:
Students of AJMS commit to a weekly time slot. We are holding that spot for you and so you will be charged for the lesson whether you attend it or not.
If students are unable to attend a scheduled lesson, you must notify the school at admin@adrianjones.org no later than 9:00am on lesson day to qualify for a makeup lesson during makeup week at the end of the term. Please do not notify the teacher, admin will make sure they are informed.
A maximum of one absence per term will be honoured for rescheduling during makeup week provided proper notice has been given. Any absences beyond that will be forfeited lessons.
If you have more than one student at the school and wish for the other student to take the lesson, this is permitted but it is required that you let us know by 9:00am on the day of the lesson so that alternate lesson plans can be done by the teacher and time isn't spent planning for a lesson that isn't happening.
Any lessons cancelled by the school due to teacher illness or absence will be made up at the end of the term.
Dates for makeup lesson week can be found on the term breakdown sheet attached
It is the parent or student's responsibility to arrange in advance for makeup lesson times during that week. Spots are limited and are therefore booked on a first come first served basis. Booking makeup lessons is done through the AJMS portal http://login.mymusicstaff.com and can be booked as soon as you give appropriate notice of a makeup. Makeup lessons cannot be held over to the next term or credited toward the next term and must be booked in advance to be scheduled over the makeup week. If your teacher must cancel a scheduled lesson, the student will be credited a rescheduled lesson.
Inclement Weather Policy:
In the event that the school board chooses not to run their buses, please assume that scheduled lessons will continue as usual. If the weather continues to deteriorate during the course of the morning we may decide to cancel lessons for that particular day. A decision will be made by 1:00pm and a notice will be posted in the AJMS portal at http://login.mymusicstaff.com
Please keep in mind that in most cases, your teacher has come in from out of town for your lesson. Lessons missed due to weather will only be made up if the Adrian Jones Music School cancels lessons for the day.
Parking – Waterloo Location
Parking in front of the building is reserved for tenants only. There is free street parking available on Graham or Peltz street.
Social Media Permission Form
We at Adrian Jones Music School embrace social media and love to share our cool experiences with the public. Please sign and return the attached social media permission form if you haven't already. Please check us out on social media and use the appropriate tags.
Referrals
90% of our students find us through referrals from friends. There are generally a few spots available for lessons with each teacher. For every student you refer and who signs up for a minimum of a month, you will be credited one free lesson. Please have them mention your name when they register. Lessons available are Guitar, Bass, Ukulele, Piano, Drums, Violin, Voice and Theory.
Adrian Jones Music School | Musicians Who Love Teaching Music
133 Metcalfe St, Elora | 142 Waterloo St, Waterloo
www.ajmusicschool.ca
519.574.0139 | admin@adrianjones.org
Twitter | Instagram | FB | # AJMusicSchool